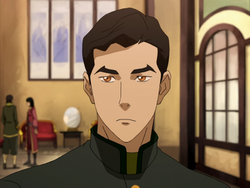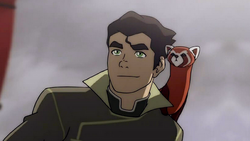 Black hair, red eyes. Brown hair, green eyes. They are distinctly represent the national divide, but at the same time, they do no look uniquely one nation.
--
Okay, soherin follows a little pet cracktheory I developed while I was reading through The Promise comic. The following might be a bit spoiler-ish if you haven't read the comic yet.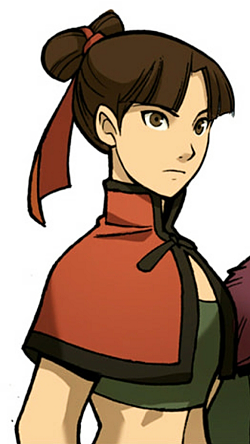 This is Kori Morishita. She lives in the Earth Kingdom and her home is the Fire Nation Colony, Yu Dao. When the town started out, it was near nothing, but with the resources and help of the Fire Nation, it was built up into a major area over the course of a decade. Her father (a non-bending fire nation noble) came to the city to rule over it as Mayor and during his tenure, fell in love with an Earthbending native. Kori is an earthbender and Fire Nation citizen by birth.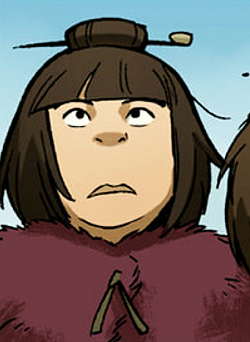 This is her boyfriend, Sneers. He's a non-bending Earth Kingdom citizen.
Over the course of the story, the reconcile a difference and reinforce their relationship. They are vital in showing Aang about the future of the nations: they are no longer separate. It was important for his relationship with Katara, as well.
--
These two could very well be Mako and Bolin's grandparents. I don;t like for everyone to be related to everyone in series - I just think its a little limited and whatnot. Its a fun little thought, though. Even if they aren't.. I'm sure their family has a similar circumstances. What do you think about the bending brother's heritage?
_________________
Proud Elder of the Air Nomads
"Thousands of candles can be lighted from a single
candle, and the life of the candle will not be shortened.
Happiness never decreases by being shared."